In this app review we will take a look at an application that works really well in EYFS and Key Stages 1 & 2, and SEN classrooms. One of the benefits of this App is its versatility, it could be utilised as part of a larger project, built up over a number of lessons, or could be used as a one off activity.
Foldify is a simple and user friendly app that allows you to create, draw and colour 3D objects and figures. Once you have completed your design Foldify allows you to quickly send your designs to the printer and bring your characters to life. This can encompass many areas of learning such as verbal comprehension and story telling.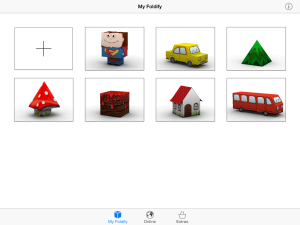 The pre-designed characters and objects such as the bus, people and dice could be used in a range of classrooms for activities such as story telling.
The interface of the App is highly intuitive, providing a range of tools and colours to use on your shape; and is where the creativity can really begin. The left side of the screen shows what your 3D design could look like after printing and the right side is your where you get creative with different colours, shapes and you can even import a photo from your device Camera Roll. Learners can easily get involved and begin creating interesting designs, using their fingers to colour, move and zoom in on a particular area.
This App is a great tool for engagement as users can become really involved using their fingers to draw with a range of colours and shapes. When your design is complete simply tap the print icon in the top left corner and send your design to the connected printer, alternatively send a PDF version in an email to print later. Once printed, cut out your design and bring your figure, character or object to life in 3D.
More about the App can be found here: http://www.foldifyapp.com
There are other App options too, such as Foldify Dinosaurs and Foldify Zoo.
Review Summary: We really like this App as it can be used in a number of curriculum areas, making it good value for money, and is simple to use.
Lesson idea: Could be used to create 3D characters, buildings and transport to use in an animation, based around a specific topic such as the Romans.
Cost: £2.99
Level: EYFS, KS1, KS2, SEN
Main curriculum areas: Mathematics, Science, Literacy, Numeracy

Subscribe To Our Newsletter
Join our mailing list to receive information, resources and updates from our team.