Here you'll discover what schools say about us in our case studies and testimonials.
Adam Daly, Deputy Head
David Kirtlan played a crucial role in the successful implementation of our iPads for Learning scheme. He worked with us throughout the planning process and now continues to provide advice and support from a leadership and curriculum development perspective.
The feedback from all curriculum areas on his subject specific training has been very positive, even from areas that were initially sceptical!
His work is extremely effective because of his understanding of learning. This was the key element in us choosing a partner to work with. As a result of this, he quickly gained the respect of our staff resulting in highly effective training to ensure existing skills were further developed.
He brings a wealth of knowledge, creative solutions and practical examples to his sessions and his enthusiasm has really motivated our staff.
Ilkley Grammar School 
Elsium first supported Ilkley Grammar School, who began a 1:1 iPad deployment across years 7, 8, and 9, in September 2012. The support included vision and planning, and considerable training throughout the academic year with staff and SLT. Through coaching and mentoring, and co-delivery in class, Elsium provided support to ensure the smooth implementation of the devices into classroom practice.
This has been followed up in each subsequent year with additional training as the scheme was deployed across the whole school to ensure that all staff are supported, and that the scheme is enjoying ongoing success with real and measurable outcomes.
Following an OFSTED inspection in 2013-2014, specific comment was made regarding the success of the deployment, and a rise in standards across the school and within specific areas.
OFSTED Report 2013-2014
The department [mathematics] embraces new technology and innovative ideas yet maintains a very good balance between new and traditional methods. Excellent use is made of information technology to enhance learning.
Teachers are making increasing use of tablet computers to augment learning in Key Stage 3. Traditional resources are used very effectively alongside the latest technology to enrich learning.
Excellent professional development opportunities include external events; bespoke training and the school's own training programme.
The full OFSTED report can be found at:
Elsium worked directly with the students to create an #iPadband for the parental engagement session as part of the 1:1 scheme.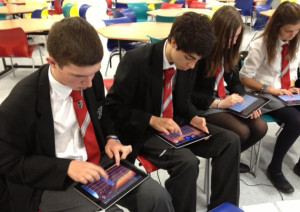 Click here to see the video
Ajman Academy, Dubai
Elsium's David Kirtlan travelled to our private primary school in the Dubai, UAE area and did two separate trainings, one for beginners and one for intermediate/advanced users.
Our staff in the beginners class learned how to allow the student to display evidence of learning methods such as annotating, expressing their understanding of learning that's happened through and audio explanation or manipulating video… or all three at once!
The more advanced training was able to delve deeper into apps that allow a student to shine. Creating beautiful student-recorded and edited iMovies with music and titles, working with 3D shapes, recording visual annotation such as arrows whilst at the same time hearing a voice annotation explaining a diagram, bringing all these together into Book Creator to produce a media-rich, interactive iBook.
David's training has transformed the way teaching and learning is conducted in our school.
We have taken what he's shown us and applied it to our inquiry based model. Children in a bilingual environment with limited literacy skills have been able to express themselves and apply the information in new and exciting ways.
The results have been nothing short of spectacular.
J Grigsby
Our team of lecturers in the Primary Centre at the University of Worcester, spent an inspirational and informative day with David Kirtlan. David's knowledge in relation to the use of iPads in a primary school setting was excellent. The day was lively, full of fun but always rooted in a good pedagogical understanding. The training helped staff at all levels of expertise to understand how iPads can add value to children's learning experiences.
P Mayne
I can't think of a part of the workshop in which I didn't come away with something useful.
Barry Island Primary
Top quality. Teachers supporting teachers who love being life long learners. Fantastic.
Shipley Learning Academy
Dear David, I just wanted to thank you for such an accomplished and thought-provoking presentation at our recent Curriculum Scheme of Work Creation meeting. Your skills set are a great tone for the day and the great range of wonderful apps that you demonstrated will certainly benefit many teachers in Swindon going forward – not just the apps themselves but the inter-linking them to create real and practical pupil results. Feedback from our attendees was excellent with many singling out your presentation as the highlight of the day.
P Anley
Working with technology our young people of today are familiar with, Elsium provide an imaginative and innovative way of learning. Engaging students to create projects which not only encompass the curriculum but encourage different avenues of thinking.
Following a vey successful day at one of Doncaster's local comprehensive schools, the Doncaster Skills Academy is looking forward to further collaborations with Elsium and stretching the boundaries of students learning expectations. Instilling in them the employability competences which are key things that Doncaster businesses would be looking for in a candidate, and to allow them to move effectively from education into employment. Whilst also encouraging the students to focus on the importance of their education through carefully planned workshops which allow them to "think outside the box".
Doncaster Skills Academy

Subscribe To Our Newsletter
Join our mailing list to receive information, resources and updates from our team.