We are proud to announce that David Kirtlan, Director of Education and Knowledge, has been asked to join the prestigious GESS Education Awards judging panel.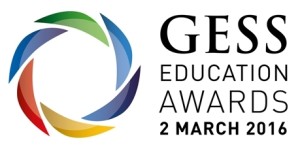 Held during Global Educational Supplies & Solutions (GESS) 2016 on 2 March 2016, the GEAs are an annual event to celebrate outstanding success for the suppliers and teaching professionals of the education sector throughout the Middle East.
The awards will highlight and reward the quality and diversity of educational products, resources, services and people as well as the best educational establishments and the most dedicated members of the teaching profession. The GEA's aim to encourage the raising of educational services & product standards throughout the industry and aims to be recognised throughout the sector as the accolade of excellence.
To find out more about GESS visit gessdubai.com

Subscribe To Our Newsletter
Join our mailing list to receive information, resources and updates from our team.