When you think of education technology conferences, an art gallery wouldn't be at the top of the list of most people's common venues. After all, it seems that in the current climate, education and the arts are seemingly becoming divided into compulsory and extra curricular activities.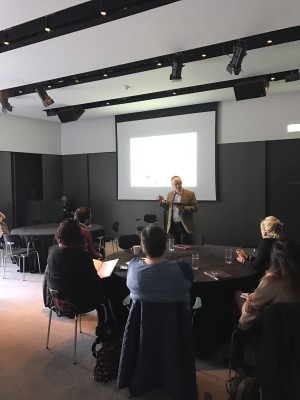 However, last week Elsium presenters David Kirtlan and Stuart Swann, working with Insight; presented a day of workshops for teachers and educators, and the venue chosen was the Hepworth Gallery in Wakefield. The Hepworth Gallery is named after, and features the work of, sculptor and artist Barbara Hepworth.
Whilst an art gallery, featuring the works of an artist renowned for abstract pieces, who died long before even computers were commonplace never mind hand held devices, may not sound like the place that would inspire the use of technology in the classroom; it was the perfect place to show just how digital skills can be embedded across the curriculum, including in subjects such as art.
Many schools already use the devices in areas such as numeracy and literacy and are at the point of, what next? This is when it's time to look more profoundly at the pedagogy behind the use of the technology and the theory that could then be applied across the curriculum, adapting for each specialist area.
When used in subjects like art, there are a number of options that could be applied, and it's more than just the apps! For example, one use would be a guide to the art gallery along the lines of the Google Cultural Institute.
This is about more than simply using a device because it's there, it's about using the technology to develop digital skills, whilst maintaining the core ethos of the subject; and with art as a subject, this can often be a hurdle, and it's not just in schools.
In 2012-2015 the Arts Council funded 52 arts and culture organisations to research and explore how digital technology can work when it comes to the arts.
The arts and technology have long worked in harmony in terms of media, and film making, with film making often inspiring the next generation of devices that will become a reality; however for other areas of the arts this is more difficult, and so by organising conferences in places such as arts galleries, it enables delegates to be inspired, and to answer those "what next?" questions.
Thanks for reading, and remember to sign up to our newsletter for the latest from Elsium!

Subscribe To Our Newsletter
Join our mailing list to receive information, resources and updates from our team.